Welcome New Homeschoolers! ——Do you ever find the number of  homeschooling resources, websites, etc, to be just a bit overwhelming?  Or maybe you are looking for a little help with your homeschool explorations?  Homeschooling 101, by Erica Ardst, gives that kind of guidance with a step-by-step, easy-to-follow approach.  From writing a homeschool mission statement, discussing homeschooling methods, to household management tips, Homeschoolng 101 provides you a complete introduction to the world of homeschooling!
~Don't miss the discount code and giveaway at the end!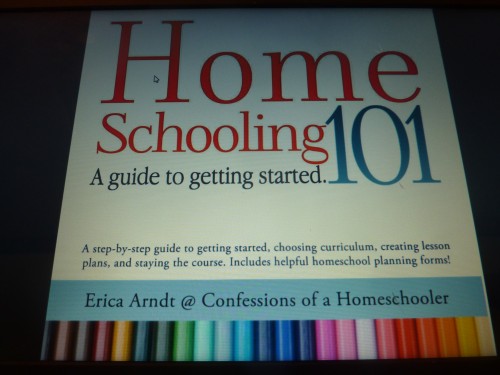 What is included in Homeschooling 101?
Homeschooling 101 consists of 23 chapters, and an appendix. Here is a sampling of topics that  are covered in the chapters:
Choosing Curriculum
Getting Organized
Homeschooling Your Preschooler
Homeschooling Mulitple Grades
Standardized Testing
Homeschooling on a Budget
What about Socialization?
and many more!
Throughout the book, the author speaks in a conversational tone, which makes the ebook very approachable, as it covers all the basics of homeschooling. For example, in the chapter on Planning, Erica says, "I set aside some time each week for planning time.  I think having a plan and not sticking to it, is far superior to having no plan to start with!  But that's just me, how I roll."
There is a section for each level of homeschooling, full of tips and guidance.  This includes homeschooling your preschooler, K through elementary, middle and high school years and also chapters on how to handle multiple grades, and only children. There is help for choosing your curriculum, setting up your homeschool schedule, dealing with housework, working with siblings, testing, and so much more!  When reading this ebook, it feels like you are meeting with the author over a cup of coffee!  And everything is laid out in a step-by-step approach.
Another helpful aspect of this ebook is its Appendix. It includes resources and handmade charts. A sampling of which is listed below:
Notice of Intent to Homeschool Form
Behavorial charts
Scheduling charts
Curriculum Plan Overview
Crafts supply list
Assessment Forms
Homeschool Planner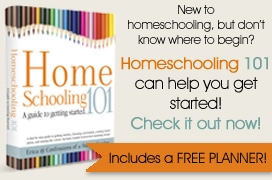 If you are looking for a well organized, step-by-step introduction to homeschooling, my family recommends Homeschooling 101. For more information on this ebook, and instructions on its purchase, please go to www.confessionsofahomeschooler.com.
Special Discount Code for Curriculum Choice readers!
Erica at Confessions of a Homeschooler is offering a special code: CURRCHOICE_30 for a 30% off discount on her Homeschooling 101 eBook. The coupon code is valid 10/7/13 – 10/11/13 one week only!
Now for the Giveaway!
Erica is also giving away one (1) copy of her ebook to a Curriculum Choice reader! Simply follow the instructions in the rafflecopter widget below to enter to win!
Betsy is a veteran homeschooler, who offers (free) homeschool consulting and coaching to families who are beginning their homeschool journeys.  She and her husband have always homeschooled their daughter, who is now being recruited by two colleges.  Betsy is an eclectic homeschooler, who enjoys learning and growing with her family.  To reach her, please send an IM to Betsy Sproger, facebook.