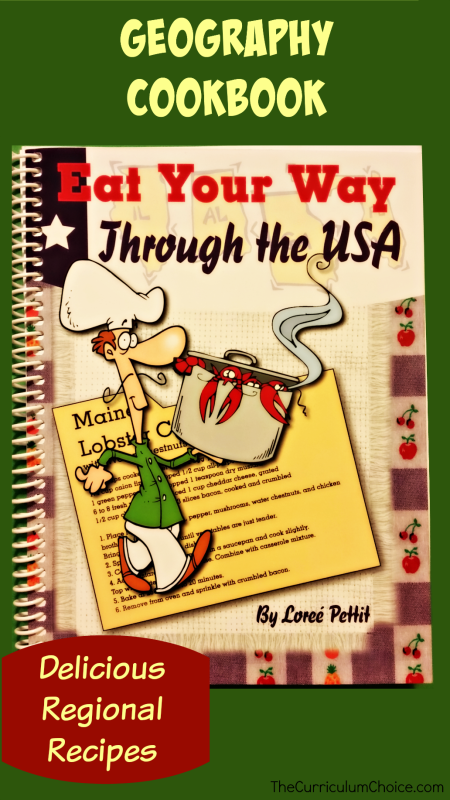 One of our favorite methods for studying geography is cooking our way around the world. Through food, we're not just learning random facts, we're experiencing cultures too. As we create and eat these popular dishes, we feel a special connection to the people from different lands and states.
Most years I coordinate our geography studies with our history lessons. This year, we're studying American History, so we're also learning about the 50 states. I was thrilled when I came across Eat Your Way Through the USA from Geography Matters.
It's the perfect resource for our geography dinners.
Eat Your Way Through the USA is a unique cookbook, written by Loreé Pettit. Every state covers at least two pages, and includes three distinct recipes – main dishes, side dishes, and desserts. When you read though the book, it's obvious that the author worked hard choosing which dishes would represent the states.
For example, when you're studying the state of Florida, you can cook Key West Grouper and bake a Key Lime Pie to get a sense of the local flavors.
We love exploring different lands via regional cuisines.
One thing that makes this cookbook special is that the dishes are a mix of family recipes, official state recipes, local friends' favorites, and popular regional fare.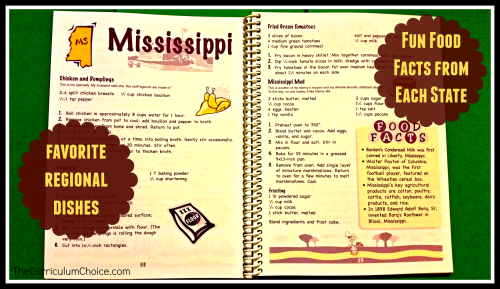 Although this is not a book that specifically teaches kids how to cook, the instructions are well written and easy to follow. My older children had no trouble taking the lead in preparing the meals.
Aside from the recipes, every state also has a set of interesting food facts. We learned details like the majority of Iowa is farmland, 90% of the lobster in the US comes from Maine, and Red Velvet cake was invented in New York.
Pretty cool!
What I appreciated about the book:
The spiral binding lets it lies flat, which makes it very easy to use in the kitchen.
The states are in alphabetical order, so it's easy to find what you're looking for.
Although the recipes represent regional specialties, they contain ingredients you can find anywhere.
If you're looking to add some variety to your USA geography lessons, definitely consider adding Eat Your Way Through the USA to your lesson plans.
And you might also like Barb's review of Eat Your Way Around the World.
Does your family ever study geography through local foods?
Megan blogs at Education Possible where she helps families with older kids find creative ways to learn together.