At the risk of being redundant, I'd like to highlight one more of Peggy Kaye's Games books. I've already reviewed Games for Math and Games for Writing here at The Curriculum Choice. All three books are similar in format, but I've found each of them to be of such great value that I just had to share Games for Reading with you.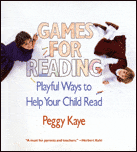 Games are a wonderful way to spice up any reading method or curriculum. Children love to play, and fun games can take the drudgery out of drill. Plus, games are a great pastime when it's too hot to go outside!
This book contains seventy-six games that cover nearly every skill needed for reading. Although they are aimed at beginning readers, meaning 1st through 3rd graders, these games are valuable for proficient readers too.
The games are organized into four parts:
•Part 1 – Games to improve sight vocabulary
•Part 2 – Games that develop phonics/sounding out skills
•Part 3 – Games to strengthen reading comprehension
•Part 4 – Games to get children to love books and want to read!
If you'd like to check out some of these games, you can visit Peggy Kaye's website to download samples from each of her books.
There are two additional Games books which I have not seen, Games for Learning and Games with Books. If anyone has used these, I'd be interested in hearing about them.
I hope that you and your children can get your hands on a copy of Games for Reading and have some fun playing and learning together!
-Written by Shannon, who blogs about her family's homeschool adventures at Song of My Heart.