Our very own friend and fellow review author, Cindy West has written this book, Homeschooling Gifted and Advanced Learners! You'll want to learn all about it below, plus enter for a chance to win your own copy. This book is…
A resource for those considering homeschooling
Inspiration for meeting the needs of a gifted and advanced learner
A tool for determining your child's learning style
A source of encouragement for parents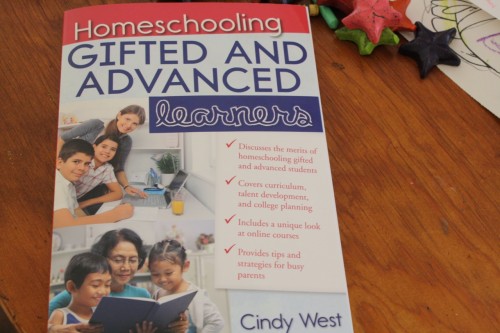 I'm not sure how Cindy was able to cover so much in 160 pages but she does. She's a mother with 14 years of homeschooling experience and a background in education. Cindy is also an author of the creative NaturExplorers curricula, has written many reviews for us here at The Curriculum Choice and knows first hand about adapting and preparing for her own learners.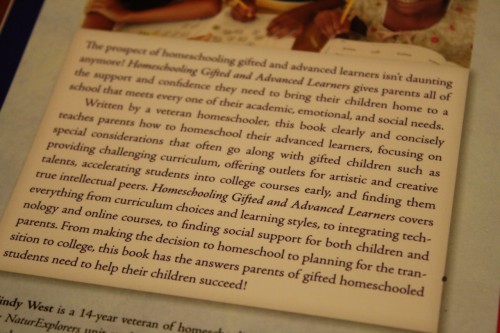 Chapters cover:
Why Homeschool Gifted Children?
An Overview of Homeschooling
Choosing Curriculum
Teaching All Learners
Technology and the Gifted Homeschooler
Individualizing Instruction
Organizing Your Homeschool Day and Record Keeping
What About Socialization?
Thinking About College
Frequently Asked Questions
Plus a compilation of extensive resources and references
Practical. That's the impression Homeschooling Gifted and Advanced Learners gives me. She shares not only a wealth of examples for teaching gifted students and developing talent but also ideas and illustrations for day-to-day homeschooling. This inspiration includes…
Highlighted sections throughout the book which offer a bonus nugget of wisdom on almost every page!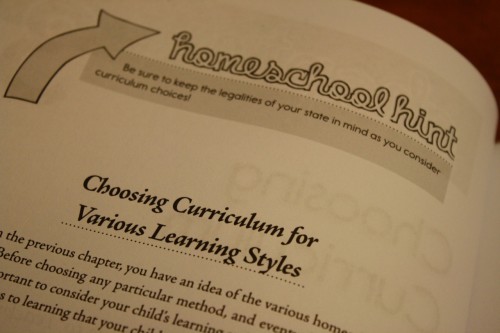 Homeschool Hints – simple helps for your homeschool

Real-life Examples – answering the how to of applying the concept shared. The 'this is how we did it.'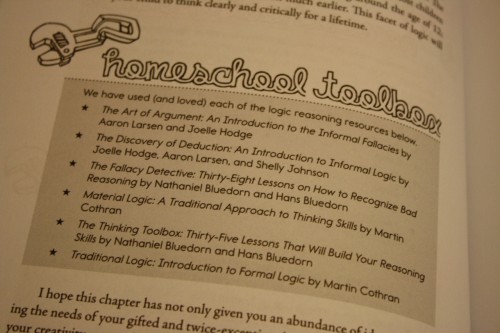 Homeschool Toolbox – book lists, website listings, integrating technology and more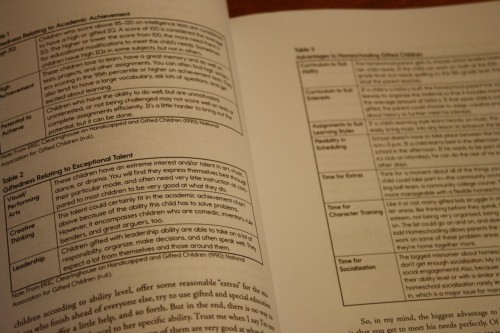 Visual charts offer examples at a glance (e.g. the types of gifted learners)

I found a bonus in how the Teaching All Learners chapter is broken out by school subject. The author shares advice and learning ideas for both:
students who excel in a subject AND
students who struggle in a subject area
In summary, this book was eye-opening. I learned the definition of giftedness. The different types and areas of giftedness. Plus, Homeschooling Gifted and Advanced Learners armed me with the tools and ideas needed to meet the needs of my gifted learners. Maybe you know that your student is gifted in a particular area but aren't exactly sure how to foster that giftedness. Cindy's book will encourage and inspire you as well as offer the practical strategy to put in place for learning!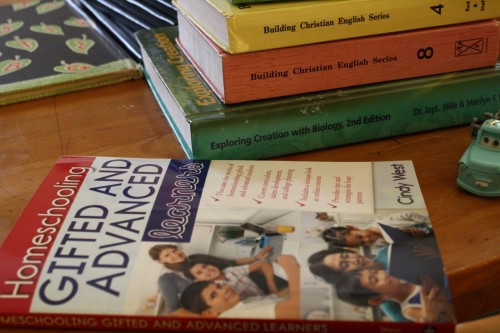 A personal example? My daughter was struggling with her computer-based Teaching Textbooks math the same week I was reading this book. Because I read in one of the Real-Life Examples about Cindy's daughter learning by reading, a light bulb went off in my head. Yes, yes. My daughter learns this way too. Here I was offering curriculum with a lecture for her to listen to. So we pulled out the accompanying textbook. Guess what? Reading the lesson was just what she needed. And Homeschooling Gifted and Advanced Learners was just what I needed to be reading to be aware of the answer for our own homeschool!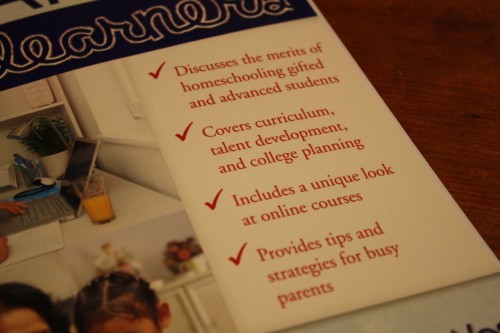 Who is the book for? This resource is great for the new homeschooler, the homeschool geared toward the gifted and even one like me – having homeschooled ten years. Can't all of us teachers benefit from continuing education and encouragement?
Homeschooling Gifted and Advanced Learners is available from Prufrock Press Inc. for $24.95 HERE – where you can also click to look inside the book.
Now, for the giveaway! The rules are as follows:
Comment suggestions (not required): In what area do you feel your child is gifted or advanced? or How do you hope this book will encourage you?
~Tricia faces a daily dose of chaos homeschooling five children. She contributes a blend of writing at parenting, frugal living and homeschool sites as well as her own daily Hodgepodge.