Growing up I read book after book. However, very few of the volumes I read are remembered or revisited.
At the library I checked out whatever looked interesting: Nancy Drew mysteries, Grace Livingston Hill romance novels, or historical fiction. My random searches hid some amazing authors. Now I get to discover these imaginative writers with my children.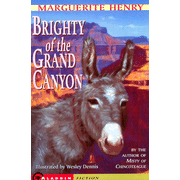 After lunch I read aloud Brighty of the Grand Canyon.
"One more chapter please!" begs my three-year-old.
Her five-year-old sister crowds close and grins widening bright blue eyes. Eleven-year-old brother peeks in almost every chapter. As the verbs bounce off my tongue, the suspense of the story pulls him away from Lego.
Our collection of Marguerite Henry's horse books was rescued from the trash. Library books thrown out to make room for new stories. Brighty of the Grand Canyon taken home only once in eight years. Was this spirited burro on the shelf at my school library? If he was, I didn't take him home either.
Marguerite Henry was not introduced to me in my youth. But I know her now.
Her stories are revisited often in this home. Benjamin West and his Cat Grimalkin roam the house resting next to Father's side of the bed, then Mother's. Justin Morgan Had a Horse cracks my voice and spills tears over my eyelids. Children gasp, "Why are you crying?"
For many reasons, I'm sure. Because life is full. Because ideas are powerful. Because children crowd around me to enjoy the lacing of words. Stories crafted to communicate ideas of liberty, hope, and faith. Morsels I want to savor together as we read book after book…
Written by Renae Deckard, Biblical Principled mother of 3. Find Renae's reflections about homeschool and family life at Life Nurturing Education.
_________
If you subscribe to The Curriculum Choice, I apologize for the lack of updates lately. Our feed was not being sent out. That has hopefully been rectified. Thank you for your patience.