I first came across the idea of Circle Time from Kendra Fletcher at Preschoolers and Peace when my oldest was four years old.  We've been reveling in leaning together for five years now.  And after all these years, that's still my favorite part of the practice–that we spend the bulk of our time learning, reading, and experiencing together.
Circle Time in our homeschool is anchored by our history study.  We read aloud from our spine book, look at maps, and have rollicking discussions.  Then from Circle Time we move into individual skill work in language arts and math.  But our time learning together anchors and defines our homeschool.  Tricia Hodges calls this Lasagna Learning.
Your Morning Basket
I was skeptical when I heard that Pam Barnhill from Ed Snapshots had created a suite of resources called Your Morning Basket: How to Transform Your Homeschool One Morning at a Time.  Would I need such a book?  But I received a review copy that has been a breath of fresh air to our well-established practice.  The book is lovely and informative.  But there are so many additional resources to help.
Planning sheets are included to help you translate the ideas into action.
Pam also offers six extended interviews with families who practice Morning Time.  It's so helpful to see just how different the practice looks in different seasons of life.
There is an up-to-date resource page that lists the best books and curriculum for different subjects from fine arts to religion to more traditional skill subjects.
Finally, there is a six week email course that helps you implement a Morning Time practice step by step.  Each week you add one piece.  The emails provides tips, videos of Morning Time in action, and a way to ask Pam questions and receive feedback.
And there's a podcast!
Pam is also the host of an inspiring new podcast called Your Morning Basket: Truth, Goodness, and Beauty for Your Homeschool Day.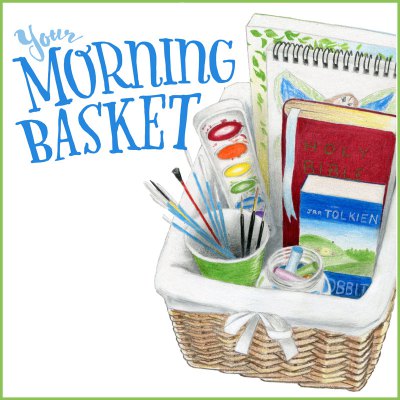 In these podcasts you get a taste of Pam's humor and delightful personality along with rock star guests like Andrew Pudewa from The Institute for Excellence in Literature and Cindy Rollins whose blog Morning Time Moms brought the idea of Morning Time to a large audience.  I can't wait to hear from Cindy West who writes at Our Journey Westward and is a long time reviewer here at The Curriculum Choice!  I love that through the podcasts, you can receive true encouragement and inspiration without spending a dime, though I'm sure you'll want to make the investment after a listen!
Simple Changes
Even though we have a robust Circle Time, I had let a few things slip.  We have one child who memorizes fairly easily and another who is a bit slower.  This created tension in our Circle Time–the opposite of what I wanted!  Reading Pam's book has encouraged me to add memorization back into our day.  Using the ideas and techniques that she presents in the email course, we are going to start memorizing "Paul Revere's Ride" to compliment our American history study.
There's simply nothing that compares to meeting the good words of Scripture, listening to a symphony, or putting your hand to a simple fine arts project, together with your children. Your Morning Basket will give you practical tools and instruction to make this life giving practice a permanent fixture in your household.