A few years ago Jamie Martin from Simple Homeschooling wrote about creating a Baking School  for her children.  Each child made a sweet treat three times: once just watching Jamie, once with help, and once on their own.  I thought her plan was pure genius!  I had visions of happily working side by side with my children, creating food that sustains us all. But, like many wonderful homeschooling ideas, it came and went and we never really began cooking together.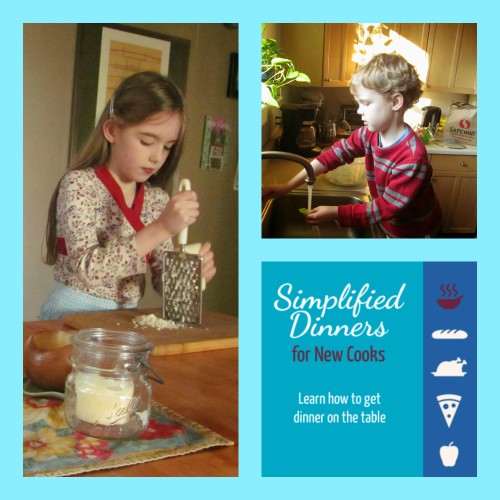 ~ Don't miss the discount code at the end! This review contains affiliate links.  If you choose to purchase a book through these links, I will receive a referral commission at no extra charge to you.
But at the end of winter that changed!  We got a copy of Simplified Dinners for New Cooks by Mystie Winckler, and it was just the nudge I needed to make my good intentions a reality. This book, aimed specifically at novice chefs, is part of a series of cookbooks that Winckler has written. Instead of a traditional collection of recipes, Simplified Dinners for New Cooks provides a theme and variations.  You learn a basic technique like cooking a pot roast, and use it in different flavor combinations (sweet & sour, BBQ, balsamic).  Following a recipe is an excellent skill, but being able to combine the ingredients on hand in interesting ways adds another level of complexity.
You can purchase Simplified Dinners for New Cooks from SimplifiedPantry.com. It includes:
a 29 page ebook available for instant download
14 themes (e.g. soups, foil-packet fish, and pasta)
2-4 variations on each theme
information about food safety, basic kitchen skills, and a master pantry list

My eight-year-old looked through the book and chose pizza for her meal.  She decided on the toppings, and we went shopping together for ingredients. She read the recipe for the pizza dough, mixed and kneaded the dough, shredded cheese, and made "the best pizza ever!"  Her little brother had to get in on the action too!  He became Head Lettuce Washer.
A little extra attention to scheduling helped ensure that our time together in the kitchen was peaceful, happy, and successful.
I thought of this project as a homeschooling lesson, not simply dinner prep.  So I brought my full attention.
I created time and space in the schedule to focus on learning these skills instead of trying to tack it on to the end of a busy day.
We also cooked on a weekend when we have an extra set of hands to help with toddler duty.
Special Discount Code
Through April 15, 2015, Curriculum Choice readers can save $5 off any of Mystie Winckler's cookbooks using the code deep5! You can download a sample chapter and pantry list at SimplifiedPantry.com.  Simplified Dinners for New Cooks will be an excellent addition to your homeschool routine.  Using Mystie Winckler's plan makes it easier to get your children learning in the kitchen!
Kortney Garrison lives with her family in the Pacific Northwest.  Her days are filled with stories and poems, nature walks, drawing, and pots of tea.  She writes about homeschooling through the church year at kortneygarrison.com.