My goal in homeschooling is to raise overall well-rounded sons who will one day enter this world and be positive contributing parts of our society. I am concerned with life skills, character, and a solid vocabulary.
"Without grammar, very little can be conveyed, without vocabulary, nothing can be conveyed." David Wilkins
Wikipedia shares the importance of vocabulary:
aids expression and communication, directly linked to reading comprehension and thinking vocabulary, and often one's first impression of another person.
Vocabulary Cartoons – SAT Word Power
There are many resources for spelling, grammar, and vocabulary. However, my favorite for my visual tactile son is Vocabulary Cartoons. Show me a pre/teen who doesn't like cartoons?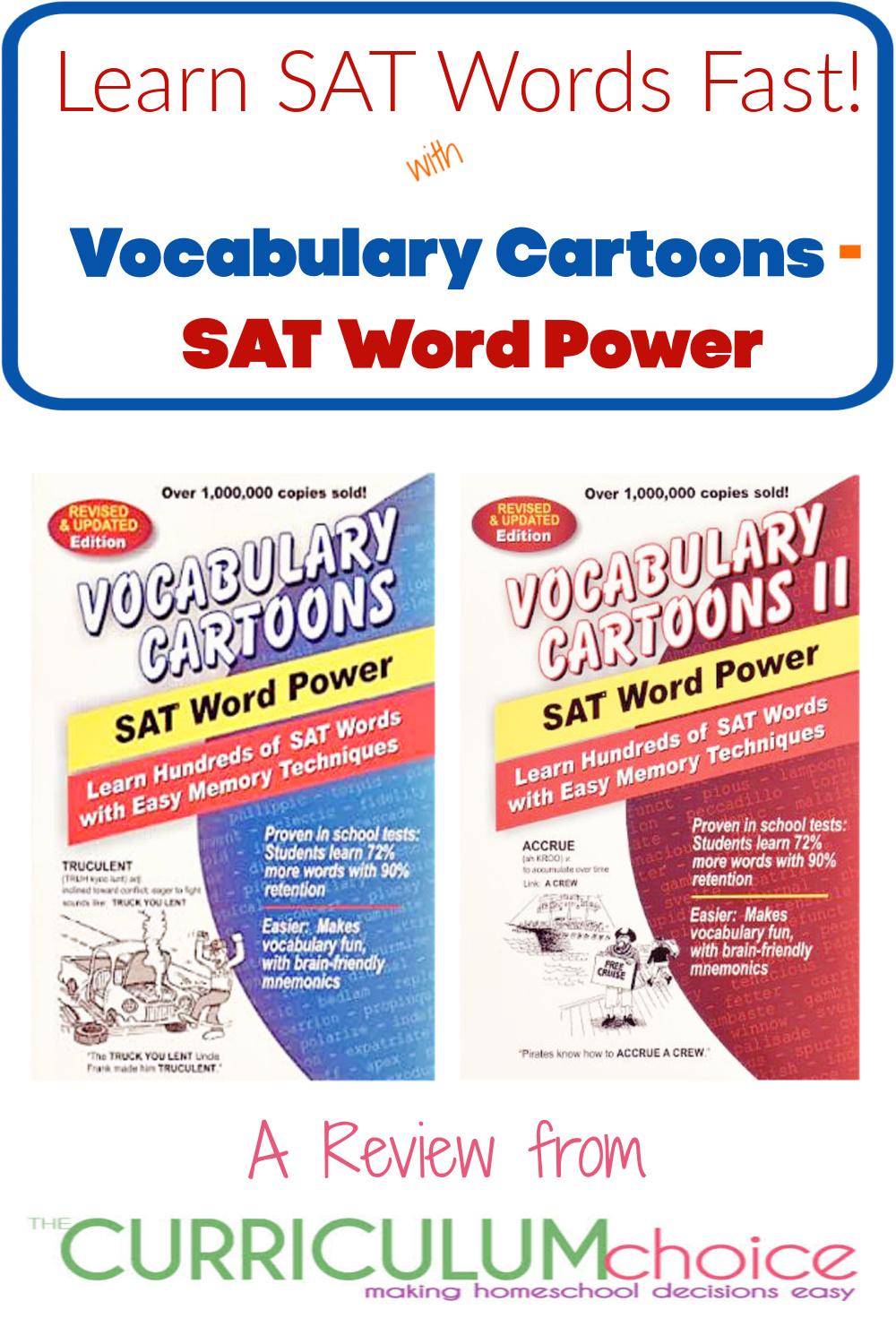 Vocabulary Cartoons and Vocabulary Cartoons II offer hundreds of words in a fun easy way to remember.
What's Inside?
Each chapter starts introducing a Key Word or Main Word, phonetic spelling, and definition. Then the fun begins!
Then a Link Word is offered to help a student remember the new word. A link word is a simple word (or words) which rhymes or sounds like the Main Word.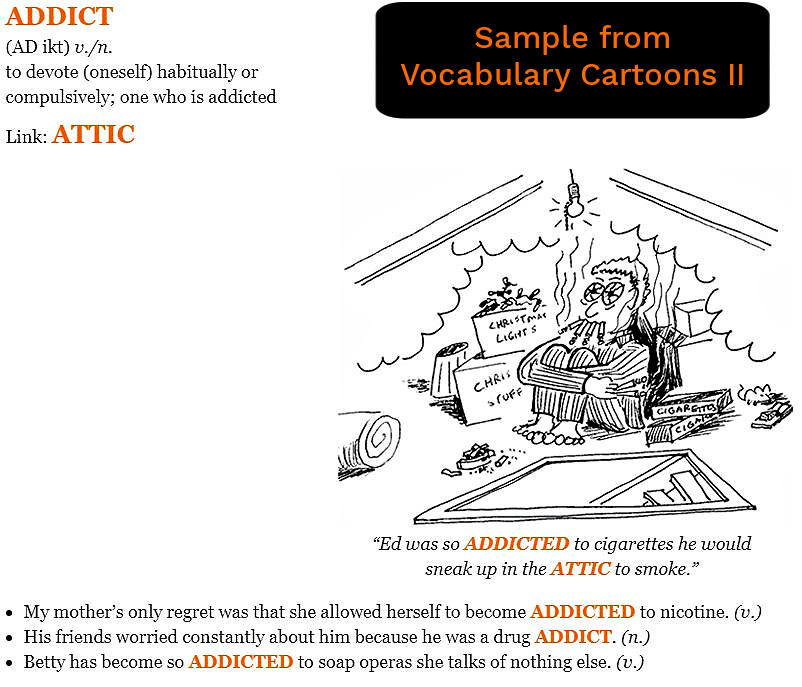 A cute witty black and white Cartoon is drawn under these two words with a Caption using the Link Word and Vocabulary Word together. The Caption connects the main word and the linking word in a mnemonic rhyme.
"The ELITE wine makers have big FEET"
Under the cartoon, three sentences are listed using the vocabulary word in different tenses.
A Review opportunity is offered at the end of each chapter.
Ten Key Words are listed on one side and definitions on the other. The student writes in the book by matching definitions to words. The student has another review opportunity to fill-in-the-blank with 10 sentences.
Our Experience with Vocabulary Cartoons
If you have a hands-on learner, allow them to sketch the cartoon themselves. Or create a new cartoon.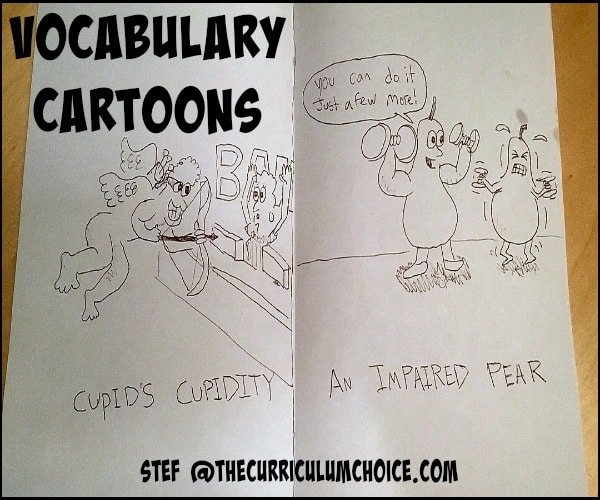 I was a little skeptical using Vocabulary Cartoons. Surely there was no way he would remember all these words by the end of the year. Mid-summer I happened to throw one word at him, "Hey, what does TRUCULENT mean?" Without hesitation, numerous weeks after school ended, the boy asked, "Does it mean … ready to fight?" YES! Because, The TRUCK YOU LENT Uncle Frank made him TRUCULENT.
Will these books boost test scores we will take in two years? I can not say yet as we are just finishing middle school now. Have I seen these words incorporated into writing assignments? Unfortunately not. He knows them but has yet to use them. This year I will be more intentional to bring them back into other lessons and maybe start using some myself.
Purchase Vocabulary Cartoons
You may also be interested in Tonya's review of Vocabulary Cartoons SAT Word Power.
Originally published July 2016 by Stef Layton.
Save
Save
Save