Okay, I have to admit that I'm not the best teacher when it comes to handwriting.  I buy a book here and I buy a book there, but we never seem to finish any of them.  That's mostly my fault because there are so many more exciting things to do than handwriting practice!  Then, well,  I find that I have a fourth grader who doesn't write neatly – and now I'm really up a creek without a paddle because all the handwriting workbooks are way too young for fourth graders.
Imagine my excitement upon browsing booths at the CHEK Convention this summer when I found a handwriting workbook that isn't babyish!  Not only that, it quickly reviews letter placement and all manuscript letters before moving into cursive.  The pages are short and sweet, the directions are clear and easy enough for my son to do the assignments on his own, and the vocabulary words used for practice are appropriate for his age level.  Finally, I've found a program we can stick with!

Conquering Cursive from Write-On Handwriting is a simple, yet effective handwriting curriculum that doesn't bother with the distractions of cutesy pictures or difficult sentences to copy.  Quite plainly, its purpose it to teach your child to write correctly and neatly.  Skills include not only proper letter structure, but proper posture, holding the pencil correctly, word and letter spacing, and understanding the concept of right and left.
They offer the curriculum in printed form (which is what I have) for $10 and you can choose from a left-handed workbook or a right-handed workbook.  (They offer a digital version, too, but I haven't had experience with that so I won't comment on it.)  Both the left and right-handed workbooks are spiral bound at the top of the page, so no bindings get in the way of writing.  Words in the left-handed workbook are situated on the right side of the page so the child is able to see the copy words clearly.
There are 96 pages worth of lessons that will reinforce not only letter and word formation, but capitalization rules, cities, states, months, number words and much more.  I have included a sample page below, but other sample worksheets can be found here.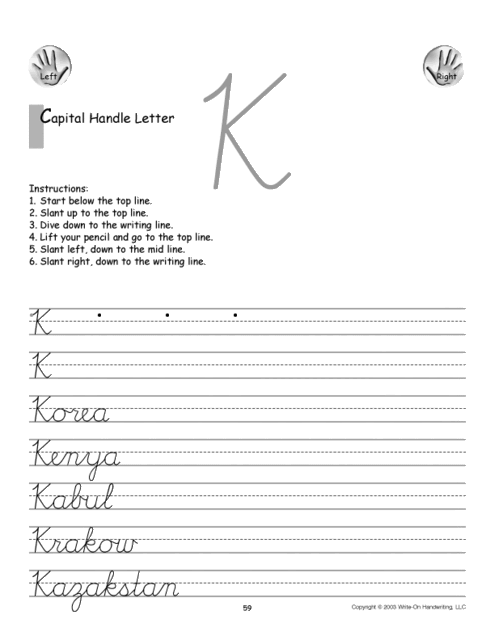 Normally, I wouldn't post about a product I haven't had tons of experience with, but my son and I are both so excited about this handwriting program that I couldn't resist!
Written by Cindy – Eclectically Charlotte Mason Mom of 3.  You can find Cindy blogging at Our Journey Westward and find her NaturExplorer units at Shining Dawn Books.