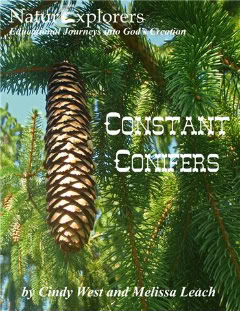 Nature study is something my family has only been doing for a few months now.  When I began looking for something to hold my hand as we jumped into the nature study waters I came across the NaturExplorers series by Shining Dawn Books.  These downloadable unit studies were just what I needed.  I received Constant Conifers ($12.00) for my family to review.
Packed into each unit I found:
Inspiration to get me enthusiastic about the topic, and literature suggestions I used at my library.
Basic information for the topic in one place so I could just read and go if I wanted to skip the library.
Lots of out in nature ideas – the gold mine I was looking for!  I had pages upon pages of ways we could explore our topic in the outdoors.  Each day we went out I knew I was ready to help guide my children to learn a little bit more than they had the last time we were outside.
Writing and research ideas to bring our learning back inside.
References for Bible study, artist study, composer study and poetry tie-ins, with internet links.
Notebooking pages to print and use with many of the activity ideas.
During our study of conifers we learned so much about these 'cone-bearers'. We chose one special conifer by our backyard fence to explore in detail and compare with a maple tree in our yard.  It really helped to be able to touch and see the trees close up when we were learning about cones, sap, bark, needles/leaves, and more.  We spent one day watching for creatures in and around our conifer, another looking at cones in wet weather versus dry, measuring, drawing, and even smelling our tree.  You can see a sample of Constant Conifers on this page.  The units are written for elementary ages, with ideas for using it with both younger and older students.  All my children were able to learn together with Constant Conifers!
I have plans to pull Constant Conifers back out in mid-winter and see what new observations we can make about our special tree in a new season. There were so many great nature study ideas that we could not get to them all the first time around.  I also have my eye on several more of the NaturExplorer units, including Snow and Ice.  I know my kids would have a blast with that one during the winter blahs around February or March!
Written by Tristan, mom to 5 going on 6 children, homeschooling through unit studies with a side of lapbooks.  You can visit her at her blog, Our Busy Homeschool, or read her other Curriculum Choice posts here.
{Disclaimer: I received a free copy of Constant Conifers when I approached Shining Dawn Books about doing a review.  I received no other compensation and all opinions presented herein are my own.}