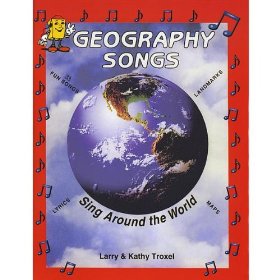 You know how, in secret societies, people recognize each other by a sign, a gesture, or a word?  Well, that's how I used to feel about Geography Songs.
You'd just have to start, "North A-MER-i-ca," and any homeschooler nearby would join in, "South A-MER-i-ca!"  That's how we could tell who homeschooled.
I haven't heard much about this CD lately, and that's a pity because it's one of the catchiest ways to learn basic geography facts. In over thirty songs with accompanying outline maps, Kathy Troxel teaches names and locations of countries of the world, as well as oceans, planets, and states of the US. Some songs are just listings of names. Others also tell about the culture of an area.
The music is light, cheerful and catchy, occasionally even tying in with the culture of the countries in the song.  It remains pleasant even after hearing it hundreds of times…and that is important.
My children begged to listen to it. If children color the map while they are listening (mine don't like coloring), they will learn the locations even more quickly.  In any case, this is a great basis for any geography study.
Our version is old but the CD has been newly updated and includes a large world map as well.
Listen to samples and buy at Audio Memory or download individual songs from Amazon.
–Written by Annie Kate, a Christian homeschooling mom of five, who reviews and blogs at Tea Time with Annie Kate. You can read her other Curriculum Choice reviews here.