An organized homeschool is a successful homeschool!  One important piece of organization is in record-keeping.  Just how do the authors of the Curriculum Choice stay on top of homeschool record keeping?  We share our secrets in this post!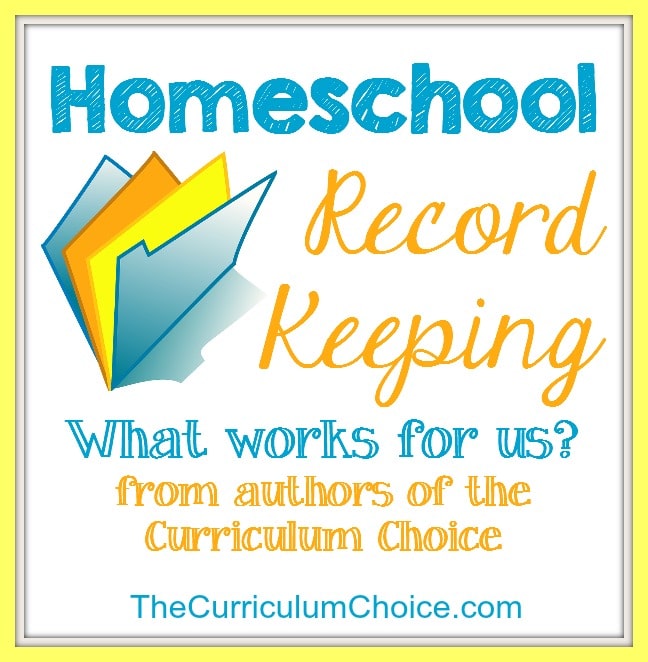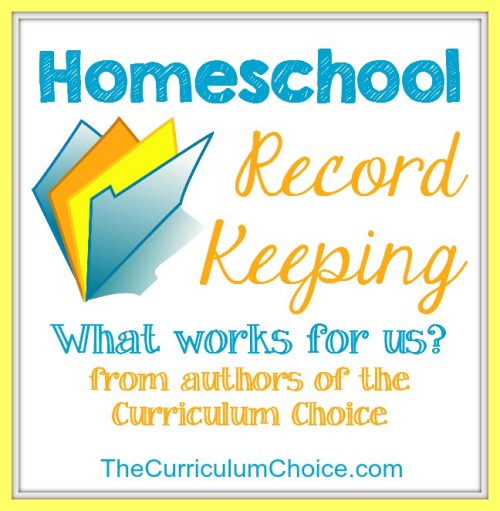 Homeschool Record Keeping From The Curriculum Choice Archives
Be sure to browse the tabs above to find reviews for record keeping and organizational helps. You might also enjoy these that we've selected from our archives.
Homeschool Record Keeping From Curriculum Choice Authors
The Curriculum Choice authors have active blogs where they regularly offer ideas and experiences about their homeschool adventures.  Below are their very favorite tips for homeschool record keeping.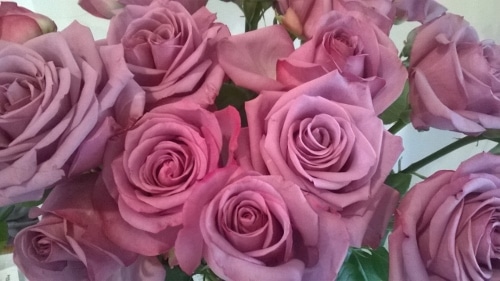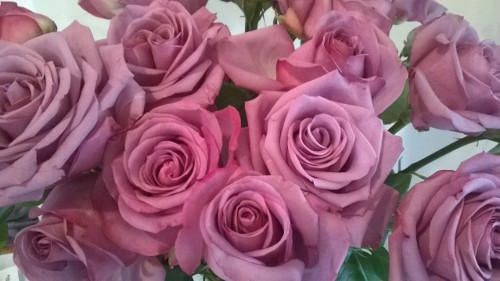 Tea Time with Annie Kate 
No matter where you are in your homeschool record-keeping journey, there are four simple things you absolutely need to do.
When it comes to high school records and university applications, I researched several options and fell in love with The Home Scholar.  Lee Binz, a former homeschooling mom, is super-organized, understanding, and practical, and her resources suit our family beautifully.  We use her Comprehensive Record Solution program (see my preview, review #1, and review #2) and I highly recommend that program even though it is expensive.  With records based on Lee's templates and advice, two of my children received marks-based scholarships from a university that officially does not accept 'mommy marks'!  (You can read more about that here and here.)
If you are a confident person and cannot afford the Comprehensive Record—but do remember that it is an investment in scholarship potential—you can do a similar thing yourself using Lee's book, Setting the Records Straight, which I reviewed here.
Tricia at Hodgepodge.me and ChalkPastel.com

I am really considering all of Annie Kate's suggestions, above! So far on our high school journey, I kept track of high school records in the most natural way for me. I write a narrative of: course work, course descriptions and curricula used, extracurricular and enrichment activities, electives, science fair projects, awards, leadership positions at church. Standardized testing. And I put it all in Evernote (Hodgepodgedad's review – our uses for this have expanded even more!) I can see how this could easily translate into an official transcript. I have a rising senior, so I will let you know!
I have a separate notebook for each of my children in Evernote. (Great post here on creating an Evernote Portfolio). I have a template I use that a fellow mom in our homeschool group shared. But I also understand that one of the best ways to track credits is to go to the website of the college your child is considering and download their credit tracker. That way your can tailor your high school credit and planning towards the college of their choice. If that is what your child is considering.
A Week in the Life of a Homeschool Planner – We are a homeschooling family of seven. Our eldest two have now graduated and we are homeschooling three. We have a long-standing habit of presenting a child with a homeschool planner in 5th grade. I have seen the results of building the habit of using a planner and I highly recommend it! To begin, we start on the weekend. Yes, the weekend!
Weekly Homeschool Planning Meeting for All Ages – We are expanding our weekly homeschool planning meeting. Why? Things are always changing at Hodgepodge: our children's needs, moving into older grades, more accountability needed. This year our eldest three children simply needed to SEE all their subjects and practice scheduling their time. 
Homeschool Planning at Hodgepodge – the best of all my tips for goal setting, planning and record keeping.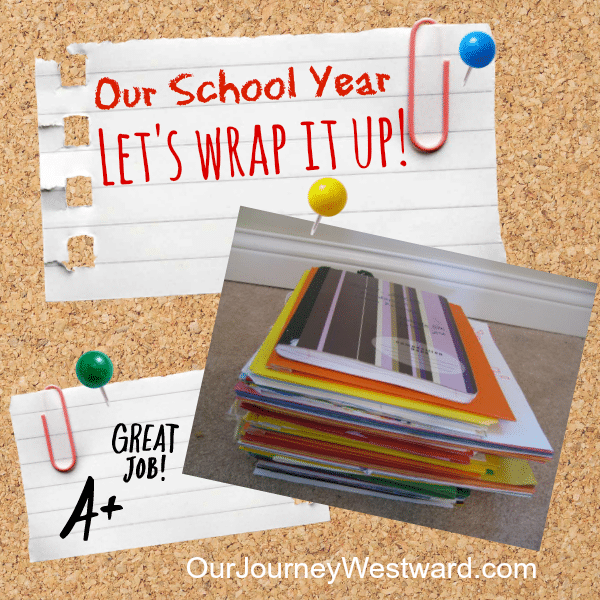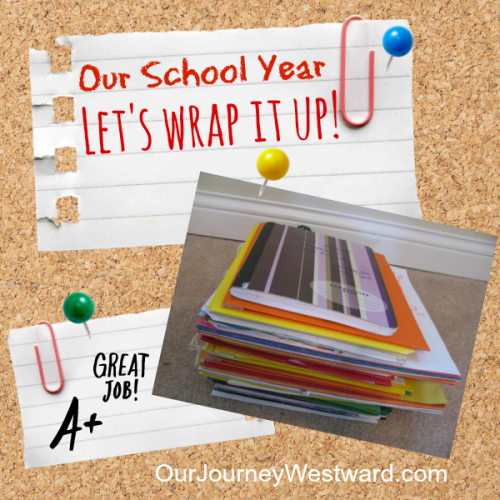 Cindy at Our Journey Westward
Record keeping in our homeschool includes several things: a list of curriculum we use each year, notes of lessons we've completed, a list of grades (aka the report card), a transcript beginning in high school, and a portfolio of "best work" compiled at the end of the year.
My system doesn't always look exactly the same from year to year, but it always encompasses the things listed above.  Here are a few posts that highlight my method of record keeping from getting myself organized and the beginning of the year to maintaining great lessons plans to pulling it all together at the end of the year.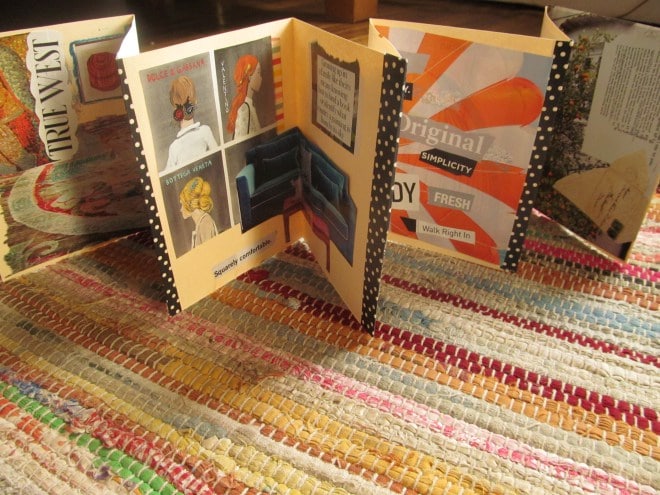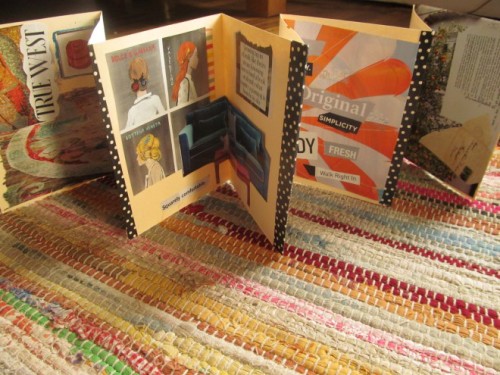 Kortney at One Deep Drawer
We're at the oppose end of the spectrum from Tricia and Annie Kate.  Our children are still young, our homeschooling methods still gentle.  This means that our recording keeping is more intuitive too.
I keep a journal that holds our calendar, reading lists, and weekly checklists.  This is also where I think on paper: trying to guide each child in the path they should go.
I also schedule time to plan each week.  Our homeschool is relaxed, but that doesn't mean it doesn't take planning to make sure we have the tools and resources we need!
Finally, I'm including a link to a collage that I made.  This one was for a business plan, but this same process would be great to use as a way to think through a school year or to plot a course of study.  The collage could even be a collaboration between the child and parent!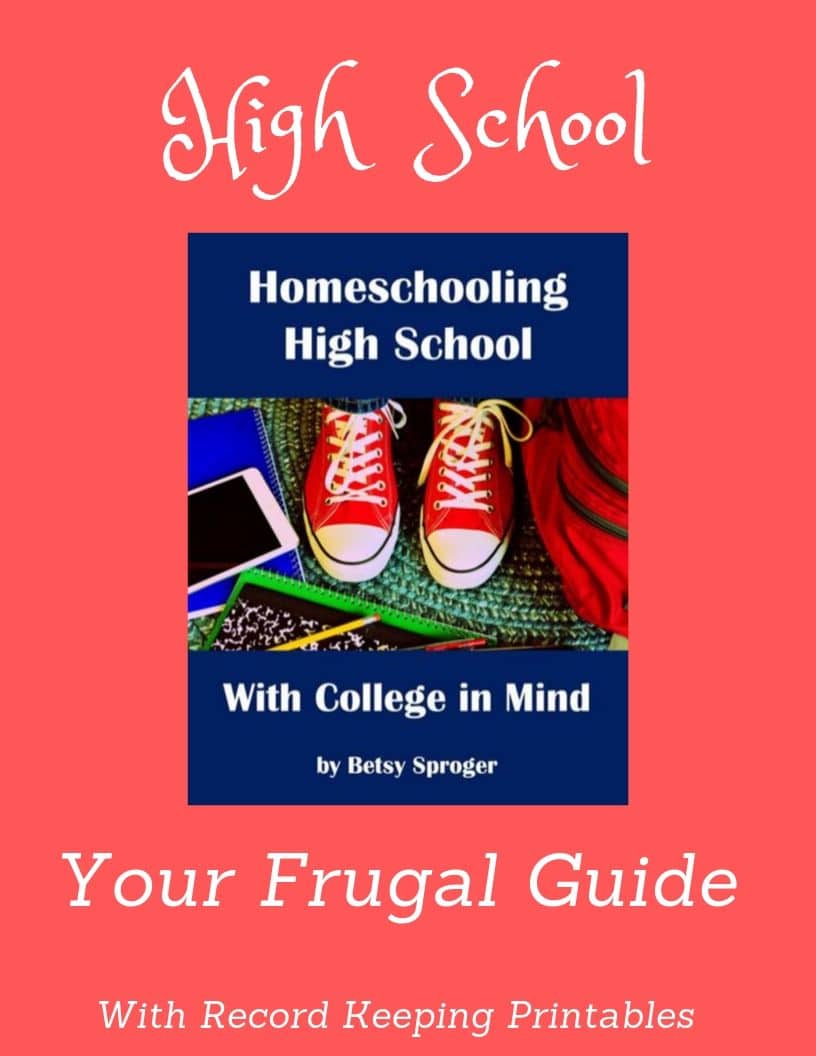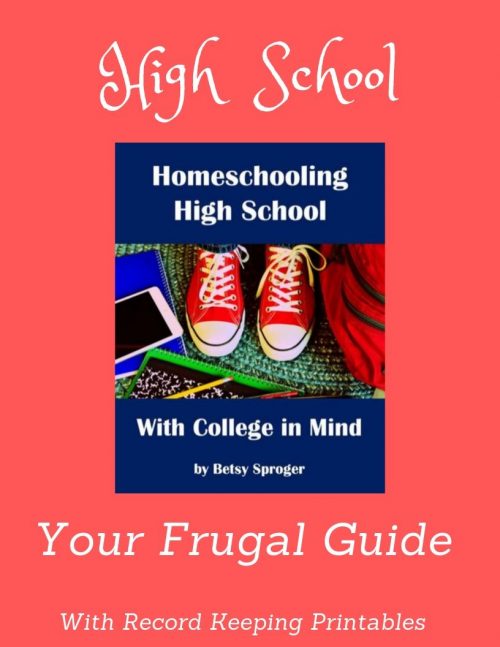 Frugal College Prep for Homeschoolers
Betsy from BJ's Homeschool
Keeping records in the early years was very simple in our homeschool.  I just used my homeschool planner to also make notes on what we did each week.  That came in handy when we did informal annual assessments at the end of the year.  For that, I needed to summarize what we had done to share that with our assessment teacher.
Record-keeping also included saving memories for my hubby and I.  That centered around saving special art projects, drawings, essays, journals and projects.  I made a simple file system, and saved these special treasures, usually by subject.  I so treasure these keepsakes today.  When it comes to our official records, those consisted of our annual testing or assessments, which I kept in a special file.
When we hit the high school years, things got a lot more formal.  I created my own high school planning printables, starting in my daughter's 9th grade year.  I used these to record what we did, to save for later course descriptions.  As we went along in our homeschool, I made more high school printables for myself, for all the other details involved in high school and getting into college.
These came in handy when putting together my daughter's transcripts.  And the homeschool transcript not only got accepted.  Our daughter got into each of the colleges on her list, with merit scholarship offers.  She graduated with a BA last spring.
I later put together a book – a guide to college for homeschoolers.  And in that book, I included all of my high school planning printables, eg:
Betsy's 12 PLANNING PRINTABLES – You will get (downloadable) forms for:
Recording your teen's college entrance requirements for your student, plus:
—  4 year high school plan (or 2 year, or 3 year)
—  Curriculum planning forms
—  Credit recording form 
—  Transcript form for you to just fill in.
—  Homemade course form – Make your own courses, and turn your teen's activities into credit!
—  Writing the college essay
—  Course descriptions recording form and more.
They are included in my new book called: Homeschooling High School with College in Mind – 2nd edition.  
Do you want a step by step guide to high school for your college bound teen?  The 17 Chapters include:
–How to Start Homeschooling if you are a Newbie
–Researching and Getting Started
–Three Ways to High School Credit
–Course Descriptions and Reference Letters
–The Common Application – Your GUIDE
–Dealing with College Testing SAT/ACT
–Homemade courses form
–Homeschool Transcript form, to just fill in!
–Making your High School Plan
–Top Sources for College Scholarships, and more.
Recommended by: Lessa Scherrer, Certfied College Counselor from College Inside Track
"
Betsy has a wealth of understanding and knowledge to share with the parents of college bound homeschoolers.  She 
provides support, encouragement and step-by-step advice on all aspects of the homeschool high school and college application process.
 This book is a must-read for parents considering homeschooling high school and for parents in the thick of the application process."
Follow Curriculum Choice's board Homeschool Planning and Scheduling on Pinterest.
The Curriculum Choice Review Team Features
Be sure to SUBSCRIBE so you won't miss any reviews from our team of veteran homeschoolers!
~ Hosted by Cindy West, mom of three who just graduated her first child who was homeschooled from the very beginning.  Every minute of the journey is worth it!

-originally published June 2015