I'm sure I've told you before that our family uses non-traditional approaches to math twice a week.  We do this partly to get away from falling into the textbook rut, and partly because I believe varied approaches to any subject are good for raising a well-rounded, educated child.
One of our most favorite things to do during math time is play games!  Today I'm going to focus on a couple of our favorite logic related games – Qwirkle and Logic Links.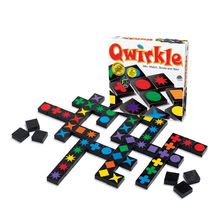 If you've ever played SET (which I also LOVE), Qwirkle is similar – yet different!  You draw several blocks at a time and, in the manner of Scrabble, place pieces that either match a shape or color on the playing surface.  Points are scored according to how many lines you've connected, with extra points being scored for making a Qwirkle – a complete line of six.
It's easy enough for a first grader to play, but complex enough for adults to enjoy as well!  I've even used the pieces to practice matching and sorting with my three year old.
Logic Links is a game your children can play by themselves – woohoo!
Numbered cards show you logic puzzlers from easiest to hardest.  On the cards, clues are written that help your children decide how to organize a series of colored chips.  I only own the level A game, but there are three more levels available, too.
This is the perfect thing to pull out when one child is finished with a school activity, but you'd like to keep them engaged in "thinking" for a little while.
I have an entire coat closet full of wonderful learning games, some of which I might share at other times.  For now, I'll leave you with these two and wish you happy math time!