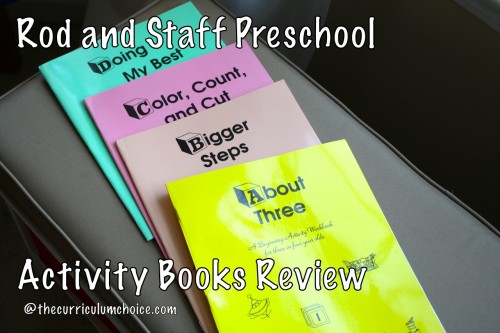 Rod and Staff Preschool Activity Books are full of fond memories for this Mama! This wonderful set is one of the resources we started homeschooling my eldest with eleven years ago.
This set of books are "beginning activity books for your young child…made to provide introduction and practice in motor skills such and hand-eye coordination and visual comparison of objects…primary exposure to number concepts."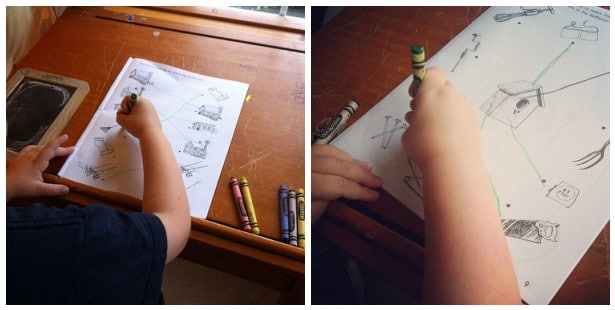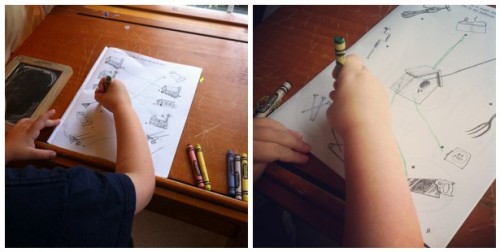 What is in the set?
About Three: A Beginning Activity Workbook for three or four year olds
Bigger Steps: An Activity Book for four year olds
Color, Count, and Cut: An Activity Colorbook for four year olds
Doing My Best: A Preschool Activity Book
What we love!
The simplicity
The gentle approach, practice
Short lessons
The main characters – Samuel and Sarah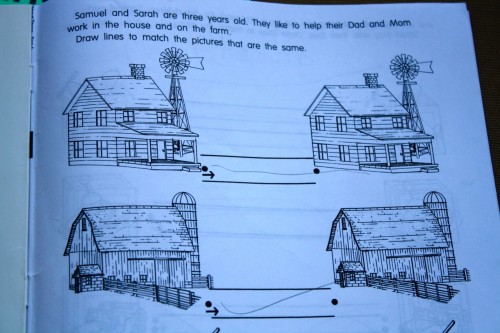 "Samuel and Sarah are three years old. They like to help their Dad and Mom work in the house and on the farm. Draw lines to match the pictures that are the same."
How much? This entire set of four workbooks sells for just $9 – yet another benefit we love. Books may also be purchased individually for $2.35 each.
Rod and Staff also has a preschool set for older children that we have enjoyed as well. Bible Stories to Read and the A, B, C series are also favorites and are for me to share in another review.
How we use it in our home. In the past one of my children enjoyed these books as a late three- almost four-year-old. I've had a few that were so very ready to 'do school' like big brother and sister. Our fifth child started these books as a late four, almost five-year-old. He wasn't quite ready to wield a pencil. And waiting until this age was just perfect for him. Oh how he delights in Samuel and Sarah and all their simple stories.
I highly recommend all of the preschool books published by Rod and Staff. They have brought much joy to our homeschool and offered the slow and steady practice my children needed for a good foundation for learning.
You might be interested in the Preschool and First Grade curricula we enjoy in our homeschool as well as the Answers in Genesis preschool curriculum I have reviewed here at Curriculum Choice. We also have enjoyed Rod and Staff English for grades 2-9 and plan on grade 10 next year.
Homeschooling for over a decade now, Tricia faces a daily dose of chaos with five children. She shares a mixture of free art lessons, recipes and helpful homeschool habits at Hodgepodge. Her husband, Steve, also writes reviews here at Curriculum Choice.