We are a family of readers and science lovers. The Story of Science series from Joy Hakim is colorful, interesting, and fits in with a chronological study of science perfectly. What a gift to find a series of science books that my boys could read, digest, and share with others!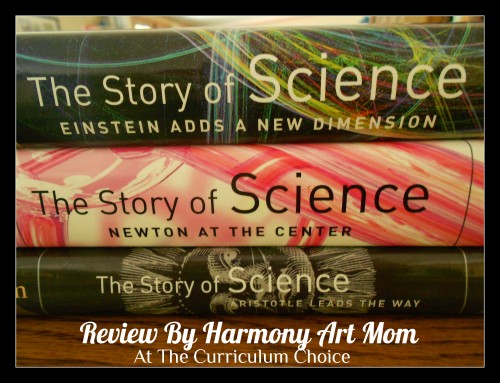 There are three books in the series:
The Story of Science- Aristotle Leads the Way (Perfect fit for a study of ancient times.)
The Story of Science- Newton at the Center (1700th and 18th centuries)
The Story of Science-Einstein Adds a New Dimension (Late 1800's to modern times)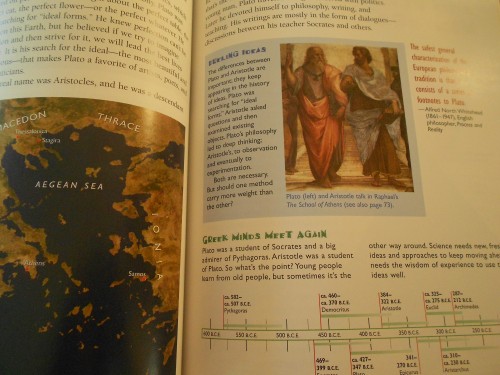 This series has all the elements of a good engaging story-conflict, intrigue, adventure, as well as heroes and villains. The story of science comes alive as you read about the people who struggled to learn and apply their knowledge in a world that was not always receptive. Each page has something to catch your attention whether it is a piece of art, a map, a timeline, or a supplemental box that takes you a little further with the information being presented.
Like studying a great history book, The Story of Science weaves all the people, ideas, and achievements into one chronological history. We are able to see how one person influenced the next and how it all fits together. For my science loving boys, these books were refreshing and fascinating.
I assigned a few pages a week along with their regular science study. They would write a brief summary and narrate the information back to me during our weekly meetings.
I now keep these in our living room bookcase and many times a visitor will pull one down and skim through the pages. One adult friend asked to borrow one of them to read more thoroughly at home. They really are books that will be read and enjoyed by the whole family.
Written by Barb-Harmony Art Mom.  I also blog at Harmony Art Mom and my business is found at Harmony Fine Arts. I would love for you to join us for the Outdoor Hour Challenges at Handbook of Nature Study.
-originally published July 2013