When I think back to my elementary school days, images of workbooks, purple mimeograph sheets (remember those?), and textbooks cloud my memory. I attended a traditional school where I gained a solid education in the three R's. However, despite my strong phonetic skills, I abhorred reading. My penmanship was beautiful, but I didn't compose a creative paragraph until junior high. I could recite my math facts, but they had no real life application as far as I was concerned. And I cannot recall a shred of the science and history contained between the covers of those numerous textbooks.  Against this vague backdrop of pencils, papers, and chalkdust, there are two things that stand out vividly in my mind – Mrs. Shirley Campbell and Georgia History.
Mrs. Campbell was my third grade teacher.  In her generation of educators, she was an innovator. Before hands-on activities were in vogue, she had her students churning butter and learning photography. Before outdoor classrooms were all the rage, she took us outside to gather leaves rather than merely look at pictures of them in a book. Before the term unit study was even coined, she plunged us into a year-long exploration of our state's history. Simply put, she was a teacher ahead of her time.
Because of her desire to make learning a living, breathing experience for her students, I developed a curiosity and deep interest in the topics that she covered, particularly Georgia History. She engaged us in hands-on activities, assigned projects that encouraged creativity, read wonderful stories to us, and took us on countless field trips around the state. She fanned the flame of learning in me, and thirty years later, I continue to be a lover of history.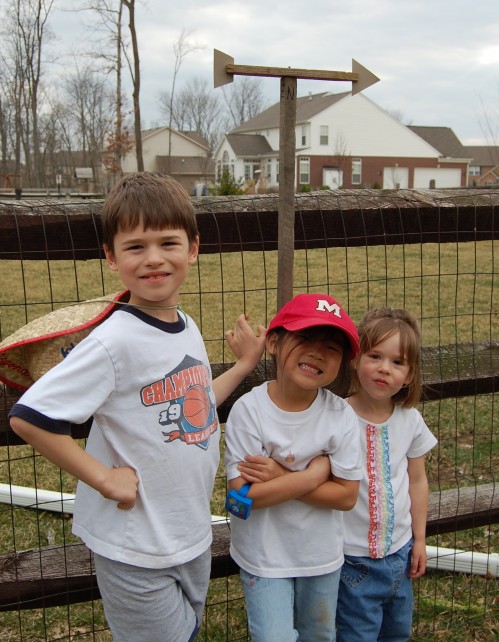 When I set out to homeschool our children three years ago, one of my main goals was to ignite a love of learning in them. I knew that for us, unit studies would be a wonderful way to accomplish this goal. I first heard about the unit study approach when I was an education major and immediately recognized it as Mrs. Campbell's method for teaching her third graders. As a new teacher I decided to use unit studies with my students, and I saw how they were drawn into the topics we studied and how they enjoyed what we were learning. It was only natural for me to continue using this approach when I began homeschooling my own children.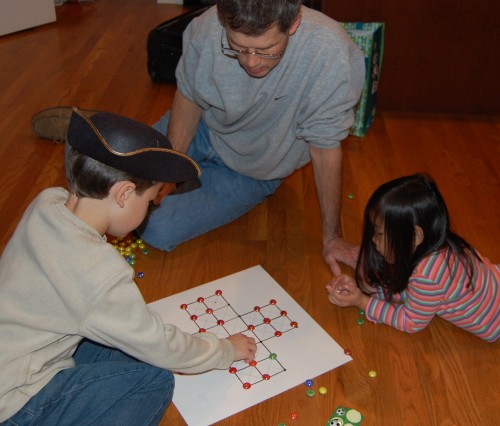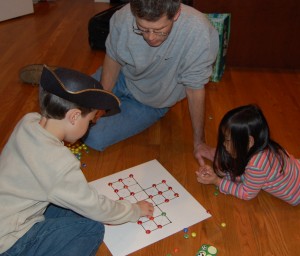 What Is A Unit Study?
In a unit study you take one topic and study it in depth, exploring all aspects of it across the curriculum. For example, a unit study on Outer Space would delve not only into the science aspect of the topic, but also into the history, math, reading, writing, music, and art surrounding it. As a result, the student begins to see the topic as a big picture, not just the individual parts that make up the whole.
Advantages of Unit Studies
They provide a rich learning experience. The students live with the topic for several days, weeks, or even months. By the end of the study, they truly understand and retain the material. It is theirs.
They are an efficient and cost-effective way to teach multiple ages. The whole family joins in the fun of learning about the same topic, so you don't have to purchase individual textbooks and workbooks for each grade level.
A topic can be covered as in depth as you'd like and can be tailored to fit your students' interests and needs.
Unit studies can be child-directed or teacher-directed. For delight-directed families, the study can be fueled by the child's interests. However, if your homeschool is more teacher-directed, you can choose the material that will be covered during the unit.
They can make all of the curriculum areas more enjoyable for students. For example, if your child is not a fan of history, but he loves science, then he might enjoy learning about the history of the space race as part of a unit on the Solar System.
They can ignite a love of learning even in the most reluctant learner.
They can make use of quality literature (living books).
You can incorporate all kinds activities, materials, and projects into a unit study. Cooking, art, dressing in costume, drama, music, games, craft projects, living books, lapbooking/notebooking, and field trips are a few that we have enjoyed. For all of you Charlotte Mason families out there, there are countless unit studies into which you can incorporate nature, artist, and composer study.
They encourage creativity and problem-solving.
Unit studies are a wonderful way for families to make fun memories together!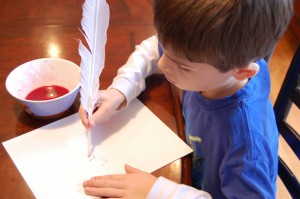 In my next post I'll talk about how you can put together your own unit study. Now don't let that idea scare you! First of all it's not as difficult as you may think. Plus it can be a lot of fun. However, please know that there are plenty of wonderful unit studies out there that have already been written for you! All you have to do is choose one and follow the lessons and activities the author has laid out for you.
I'll leave you with a couple of great resources to check out:
Homeschool Share – I'll talk more about this wonderful treasure trove of free unit studies in my next article.
Amanda Bennett's Unit Studies – Mrs. Bennett is the queen of unit studies. She offers helpful tips about using unit studies, as well as some fabulous units that you can purchase.
Written by Shannon, who enjoys unit study adventures with her three children. She blogs about their homeschooling journey at Song of My Heart.