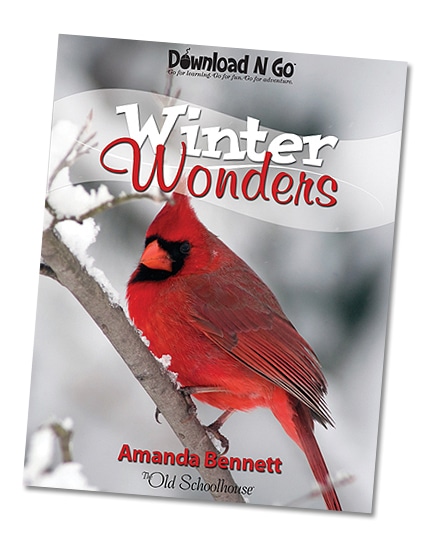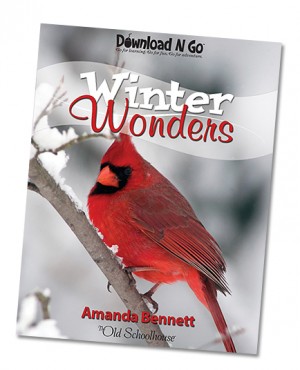 Winter isn't a season we get much enjoyment out of in my part of the country.  It doesn't snow much here.  It's just cold and windy!  However, I was able to dive into winter with this fabulous unit study.  This downloadable e-book is chock full of wonderful information about the winter season.  We read many wonderful books, viewed video clips, and went on nature walks as we worked our way through this incredible unit study.
During this unit, Emma and I talked about the first day of winter and plotted it on our calendar.  We watched videos of it snowing in places like Boston and Maine.  We learned how plants and animals prepare for the winter.  We made bird feeders to feed our fine feathered friends – and the occasional squirrel!  As science is a big part of learning about the seasons, we talked about snowflakes and icicles.  Emma did some winter art work and a few science experiments as well. Nature walks were a huge hit as we looked for signs of winter and even the upcoming spring (in the buds on the trees).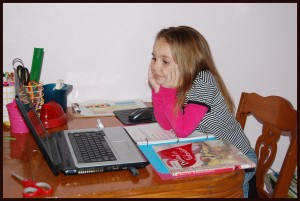 Though the unit is designed to be completed in one week, we took two weeks to complete it.  There is a lot of information to cover especially if you view all of the links. This unit is over 70 pages long and complete with lapbooking and notebooking activities.  Also included are craft and cooking ideas, a library list, nature walk journaling pages, and more.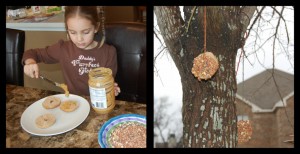 This unit is available for purchase from The Old Schoolhouse.  You can also purchase more "download n go" units at the same site.  A few of the other units available include George Washington, Whale Tales, Expedition Australia, and Sea Shells.  You can buy subscriptions to these units, as well.  (This is what I did.)  You can buy a one month subscription, a semester subscription, or a year-long subscription.  If you purchase a subscription, you will also receive one or two free unit studies (depending upon the level of your subscription.  The prices of the units are very reasonable at less than $10 per unit.  I highly recommend these unit studies to anyone looking for a unit study that is very informational and fun to do!
Written by Tara, who is homeschooling two with a little bit of everything. You can find her blogging at Mom Teaches 2.