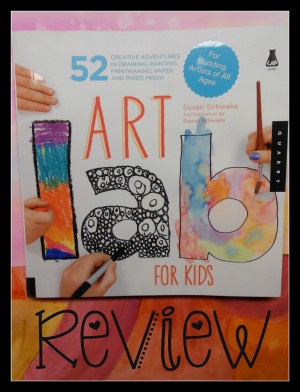 Art Lab for Kids by Susan Schwake is the book that many of you have been searching for. It is a book of easy to implement art projects that use common art supplies and can be adapted to children of all ages. It is perfect for families with multiple age groups who are looking to add in a little bit of artwork without a lot of preparation.
The projects are grouped by medium into units: drawing, painting, printmaking, paper, mixed media.  I appreciate that after many years of teaching art that I still found lots of projects that we have never tried before.
In Our Homeschool Co-Op
I am using this book as part of our monthly art co-op where I have children from age five all the way up to age seventeen. We all are enjoying the easy instructions that allow for creativity on whatever level we are working at. Each project is just a beginning point and there are "Go Further" suggestions that have helped the older kids take the project to a higher level.  You can use the same lesson for younger students and older students and have their own personal style shine through. These are not "cookie cutter" projects.
See our Scribble Drawings on my blog: Harmony Art Mom – Scribble Drawings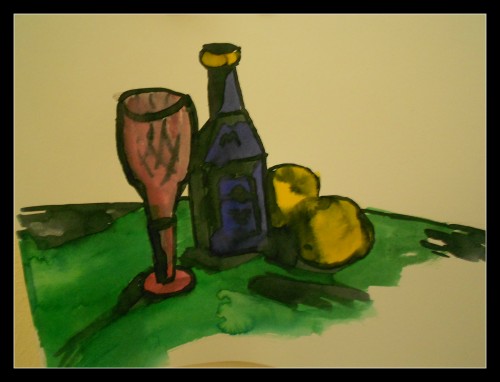 In Our Homeschooling
In our homeschool, we have been using this book since August, enjoying one project each week. There are 52 projects in the book so we have enough ideas to last the complete school year even if we decide to skip around a bit.  The clear images of the projects, specific instructions, and then follow-up artist information and project suggestions make this the perfect book for parents who are not confident about teaching art. Art Lab for Kids shows you how to offer fun and interesting projects with little preparation and with excellent results.
I also appreciate that the book uses many materials that we have not worked with before like vellum paper, painting on wood, old maps for collage, and brayers and ink. For my children it is exciting to try new ways of creating artwork and I see a renewed interest in our Friday afternoon art sessions.
As Part of Artist Study
One thing that I am noticing about using this book is that I can easily correlate our current artist study with a few projects in the book. For instance: When we are studying Matisse, I can complete the torn paper project. There are projects for many other artists like Georgia O'Keeffe, Jackson Pollock, and Paul Klee.

I can't think of a single negative aspect of this book….I love everything about it. Thanks Susan Schwake for creating such a fabulous resource for families and art teachers.
Comes in both Flexibound and Kindle editions on Amazon.com
144 pages with 52 projects.
Easily used over multiple years for even more value.
Master list of supplies is listed in the front of the book.
Suggestions for setting up your work area are outlined in the introductory pages.
Appropriate for children of all ages, suggestions for taking each project further are included.
Easy to understand instructions and common supplies.
Includes artist information and tie-ins to most of the art lessons.
Emphasis is on being creative, having fun, and becoming confident with a variety of art medium.
Guess what? We are going to be giving one copy of this book away! See the Rafflecopter Gadget below for entry instructions.
Written by Barb-Harmony Art Mom. I blog at Harmony Art Mom and am the creator of Harmony Fine Arts. I would love for you to join us for the Outdoor Hour Challenges at the Handbook of Nature Study.