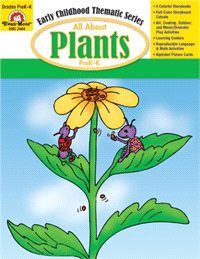 When it came time to start our veggie garden, my six-year-old daughter couldn't wait to help.  She was filled with questions about how things grew. I wanted a little book that would explain simple botany concepts, one step at a time. I found All About Plants, from Evan-Moor's science series. It covers very simple botany principles on a K/1st grade level through hands on learning. It was lots of fun for my daughter.
All About Plants covers the following concepts:
types of plants
the parts of flowers
parts of a tree
seeds
plants that we eat
Many of the concepts are taught through coloring! When we finished in the garden, my six-year-old ran inside and did a page in All About Plants. She especially liked the cut and paste activities. I loved it when she showed me what she had learned in the garden the next day. Can't get better hands on learning than that!
Benefits:
This workbook is written to the child.
The language is developmentally appropriate, clear and simply written.
It teaches through coloring, cut and paste, read alouds, and a simple experiment.
One day we planted corn seeds together. We planted the seeds inside to protect them from the cold weather in the early spring.  Waiting for the stems to appear was almost impossible for my daughter. But she kept busy studying the parts of the plant in All About Plants! Soon the early leaves appeared in our corn plant.
"That's just like my book!" she exclaimed.
And as our seedlings grew in our garden, she could identify the parts of each plant. There is nothing like gardening with children! And All About Plants made it even better for my family. It helped my six-year-old to understand the true miracle of the growing and appreciate it all the more.
If you are looking for a fun, simple approach to science for your young child, check out All About Plants. For more info on this series, go to Evan-Moor. This title is also available in ebook format. Watch for more titles in this Science Series by Evan-Moor, for young learners,  in future reviews by this author.
Betsy's most important role  is mom to her college student whom she homeschooled from day one.  She blogs at BJ's Homeschool about the early years, high school and college, and is the author of "Homeschooling High School with College in Mind".  She offers free homeschool help through messages at BJ's Consulting.