Explode the Code is a phonics based program I consider invaluable in helping my daughter learn to read! This is my Explode the Code Review. The series starts with three Primers, all introducing the child to the consonants sounds and written letters. Then the series moves on to the vowels and basic phonics patterns in Book 1 and Book 2.  The best thing was that my daughter loved doing it! First thing in the morning, she would ask for her Explode the Code book.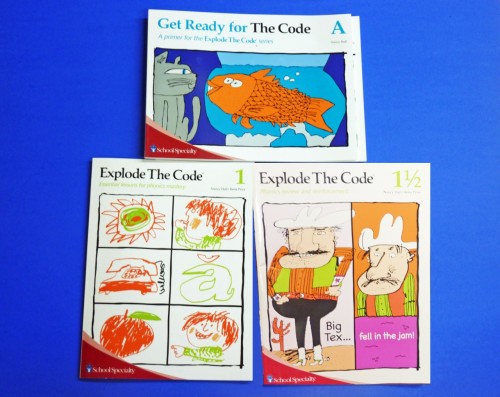 Note – This post may included affiliate links to products that we love and have used or would use in our  own homeschool. Please see my disclosure policy.
Explode the Code Review
This program did not require any prep on my part.  All I needed to do was read any new letter sounds out loud, or read her "listening sentences" for her to write down. And of course, celebrate the learning!
We started with the Primers in kindergarten. Some families choose to do these in the preschool years. The primer workbooks are entitled Get Ready, Get Set, and Go for the Code.  These books, full of child drawn illustrations, really caught my daughter's eyes. Meanwhile, she was learning all the lower case letters and sounds.
The primers prepared her for the first official book in the series, Explode the Code, Book 1. Each lesson followed the same format with the fun child illustrations. My daughter quickly became independent in her work. Through reading, spelling, writing and copying, she prepared herself for early readers. She was so proud of herself.
Explode the Code then goes on to Book 2.  (There are also additional workbooks labeled 1/2, such as Book 1 & ½ for extra practice).  Following the same consistent pattern, the series progressed to more advanced phonics, such as consonant blends and phonetic patterns, preparing the child for intermediate reading.  The consistent format and layout of the lessons helped make the learning easy.
As we continued in the series, with Book 3, Book 4, etc, my daughter strengthened her phonics skills and her reading.  These more advanced books included breaking words into syllables, diagraphs, three letter blends, diphthongs, etc.  These concepts were all laid out in an easily understandable manner and could still be done independently.
The Explode the Code offers a series through Book 8. We chose to work through Book 5, which, in my opinion, gave my daughter a solid foundation in phonics. She also became a good speller. I would highly recommend Explode the Code for any family looking for a well thought out and FUN phonics program.  Research shows that Explode the Code improves reading skills in the children that do this program.
Where to find Explode the Code: For more information, please click here.

Betsy is mom to her now rising college senior, whom she homeschooled through high school.  She blogs at BJ's Homeschool, about the early years, high school & college and wrote – Homeschooling High School with College in Mind.   She offers free homeschool help through messages at BJ's Consulting,  and has had her articles picked up by the Huffington Post.