There are a few curriculum choices that have and will remain consistent through all three of my children.  One of those is the Get Ready for the Code series of workbooks.  And as I'm planning ahead for my little guy who will probably jump into simple workbooks within the next year, Get Ready for the Code, Get Set for the Code and Go for the Code are on my list of phonics to-do's.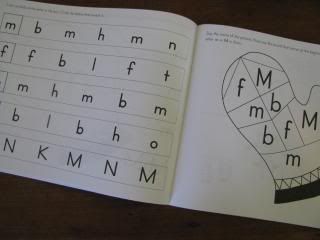 Why do I like this early learning curriculum so much?
They're simple for me to use.
They're short and sweet for my preschooler.  There's only one type of activity per page, which keeps a preschooler's attention much better than a busy page.
Each book focuses in-depth on only 6-8 lower-case consonants, giving my child lots of practice with each letter.
They cover letter recognition, letter formation, letter sounds, relating beginning sounds to pictures, left-right orientation, and using small motor skills.
They're black and white.  Yep, you heard right, I LIKE that they text and pictures are in black and white.  With preschoolers, I feel like too much color can actually distract them from the task at hand.
Within each book, letter comparisons are made.  In other words, after learning three letters, there will be a worksheet that asks the child to distinguish in some way between those letters.
And, maybe most importantly, my first two children found the workbooks to be fun.  They never complained and actually liked having their own "school work" to do.
Once finished with all three books, a preschooler should be ready to dive into more formal phonics lessons such as those covered in the Explode the Code series which begins in Kindergarten.  I like this series, too, but will save its review for another post.
There is one teacher's guide available to cover all three of the Get Set for the Code books, but I've never seen it so I won't give my opinion one way or another.  I will tell you that I've never found a teacher's guide necessary.  Although, the description on their website says it gives additional teaching ideas and reinforcement activities which could prove to be helpful.
Honestly, you could probably find plenty of phonics workbooks for $1.00 at the local dollar store, but I really like the planned progression of these books.  And for only $6.00-$7.00 each, it doesn't put a large dent in my pocketbook.
I'd love to hear your early phonics favorites!
-Written by Cindy, an eclectically Charlotte Mason mom of three.  You can find her blogging at Our Journey Westward and Shining Dawn Books.