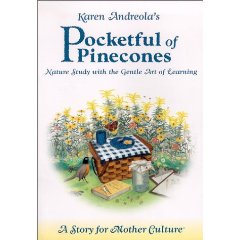 I am currently reading for the third time a little novel that is such a treat for me and one that I have a difficult time putting down. It's a delightful story and homeschool idea book all rolled into one. I'm talking about the book Pocketful of Pinecones by Karen Andreola, the veteran homeschooling mother who brought to light the works of Charlotte Mason.
The story is set in New England in the 1930's and is the fictional account of Carol, a first-time homeschooling mother who is learning to apply Charlotte Mason's methods as she teaches her children. Carol's journal entries give the reader a window into the daily life of her and her family, as well as her hopes, fears, joys, and dreams, revealing that she is not so different from mothers today.
Mrs. Andreola weaves a heartwarming story of motherhood and family with the main emphasis on Carol's carrying out nature study with her two children. Without sounding like a "how-to" manual, the story carefully incorporates ideas for nature study topics, nature walks, and keeping a nature journal. The reader can also learn from Carol's example how to gently share and discuss information about nature with children without merely throwing facts at them.
One of my favorite things about this book is the inclusion of nature-related poems and hymns that would make wonderful additions to your own children's nature journals. Mrs. Andreola also provides the scientific names of any nature subjects mentioned in the story, as well as thoughtful questions and ideas designed to get your wheels turning about studying nature with your own children. Because the chapters are short, you can enjoy each one in as little as fifteen minutes each day, coming away with a new idea or two to ponder and try out for yourself.
Whether or not you use the methods of Charlotte Mason or incorporate nature study into your own homeschool, this book makes for a welcome escape to a simpler time and place. Carol's calm and gentle demeanor has a soothing effect on me and is something that I aspire to in my own mothering. Each time I read this story I come away refreshed, rejuvenated, and inspired to continue setting aside time to explore God's creation with my children.
You can learn more about the Charlotte Mason method and Karen Andreola's books by visiting her websites, Homeschool Highlights and the Charlotte Mason Research and Supply Company.
Written by Shannon, who enjoys learning about nature with her own children. She can be found blogging at Song of My Heart.