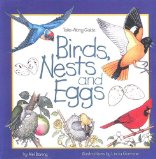 Although we are not a homeschool family that schools through the whole year, nature study is something we do as a family no matter what time of year it is.  As I type, I'm looking at a whole basket of pinecones collected by my sweet, little, pre-pre-schooler, Sophia; my boys are carefully observing a little frog they caught; and to my left is a tiny tadpole we're attempting to raise.
No, nature study is not something we take a break from during the summer.  So naturally, I'm always looking for appealing books to help us out in our nature study to help spark my kids' interest in all things outdoors.  When I found my first "Take-Along Guide" at a used book store, I was interested so I purchased it.  But it was later when I began really reading it that I became really interested.
These books are so perfect for any part of nature you are studying.  They are available in almost any subject you can think of.
Such as:
Birds, Nests, and Eggs
Berries, Nuts and Seeds
Caterpillars, Bugs and Butterflies
Frogs, Toads, and Turtles
Rabbits, Squirrels and Chipmunks
Tracks, Scats and Signs
and More!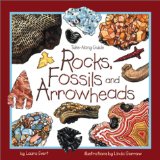 Although each book is a little different, here's why I love them so much:
Series available in pretty much every subject you'd want
Each page is laid out very nicely with great illustrations and just enough text to keep an elementary student's attention
Very informative facts on all subject matter
Each book includes several fun and simple projects
Small enough to take with you on nature walks
Great tips for nature walks throughout the books
I would recommend reading through your Take-Along Guide before taking off on your nature walk.  Then you can put it in your bag and bring with you on your walk  and use it to identify things as you go.
I highly recommend these books for all elementary students.  They are terrific for inspiring you in your nature study!