October is here and autumn is beginning to pick up momentum. Everywhere we look deciduous trees are giving us the most fabulous display. It is the perfect time to take a deeper look at deciduous trees in your nature study time. For this month I have chosen to work with my girls using a Shining Dawn Books product – "NaturExplorers: Delightful Deciduous Trees" unit study.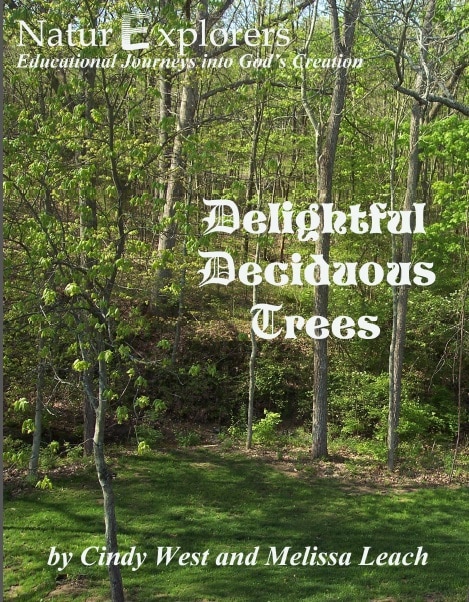 Product: Delightful Deciduous Trees Unit Study
Available From: Currclick (PDF instant download) or from Shining Dawn Books
Price: £5.51 (roughly $8.95)
Age: 5 – 13 years
 Is this 62 page unit study ever packed with ideas! It has been beautifully researched and put together. I have had my eye on a few NaturExplorers unit studies for some time now and I have to say that now that I have my hands on one – I am NOT disappointed!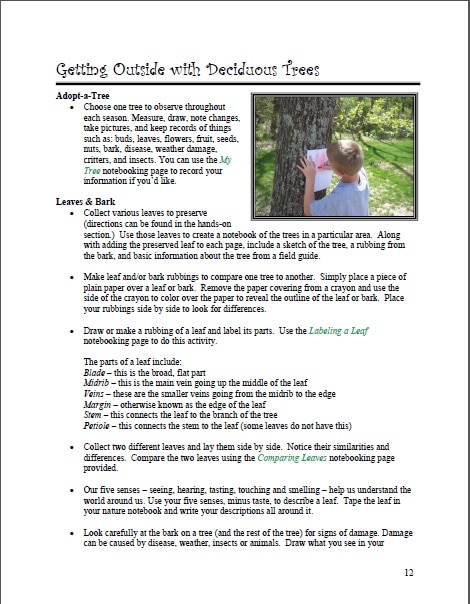 The first thing that jumped out at me was that I could simply use this product as a bit of a guide (great for experienced homeschoolers), or I could really jump in and use at as a complete unit study (fab if you are just finding your feet).
Delightful Deciduous trees has plenty of background info on the topic to inspire you and give you the confidence you need as the teacher. Inside this unit study you can expect to find:
* Ideas for you nature walk and other outside activity suggestions
* Kid-friendly internet links relating to the topic
*Loads of fabulous notebooking pages to print off
*Ideas for you to tie in Bible Study, Composer Study, Art Appreciation and Poetry
*Literature tie-ins
*Hands-on follow up activities
*Writing and Research ideas (Love this! I don't have to craft them myself 🙂
*Ideas on how to adapt the unit study to younger and older children AND group ideas (great for co-ops)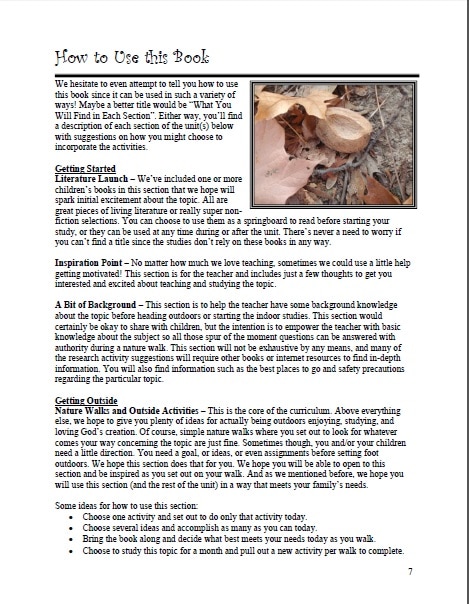 I loved the pages in the beginning on 'How to Use This Book'. Even as a seasoned homeschooler I found these pages full of helpful suggestions that inspired me to look at things with 'fresh' eyes.
I also loved that this unit study has ideas and notebooking pages for you to continue your tree study through all the seasons, so this is a unit study that just keeps on giving 😉 We have particularly enjoyed tying in our Art Appreciation and Composer Study using the helpful links given in this unit study – we have found that it has really enriched our learning experience.
Last *love* that I want to mention, at the back of the unit study the authors have included some wonderful pages on being safe and respecting nature. They have a list of useful things to include in your nature ramblers backpack and some good questions to ask oneself before setting out. This is not something I have come across before in a unit study so really appreciate these 'basics' being included.
I have to say that we are only half way through this product – and I am so happy about that as it means we still have much to glean over the coming autumn days 🙂
All in all – an excellent product and highly recommended!