Spring's the right time for science!  After the dark, cold days of winter, spring arrives with warmer temperatures, longer days, and touches of green. It's time to plant seeds and watch them sprout.  It's time to watch caterpillars eat and grow and change into butterflies.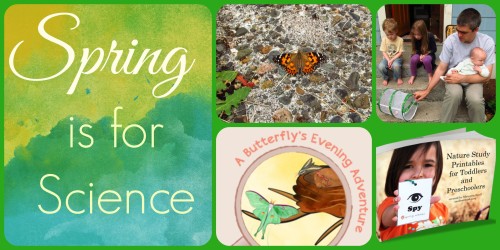 This year we purchased a Butterfly Kit from Insect Lore.  The kit comes with a cup of 5 caterpillars, food, and a habitat for the butterflies after they emerge.  The caterpillars eat for a week, form their chrysalises, and then emerge as butterflies about a week later.  We kept our sweet Painted Ladies for a couple of days before we released them outside.
Be Naturally Curious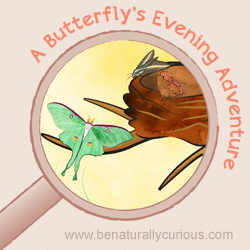 To supplement our kit, Be Naturally Curious sent us a review copy A Butterfly's Evening Adventure.  The pdf is beautifully illustrated and includes an engaging read aloud story, a matching game, and a simple art project.  Our journals are full of collage butterflies!  We learned great science vocabulary like nocturnal/diurnal and the differences between moths and butterflies.
Nature Study Printables from Spell Outloud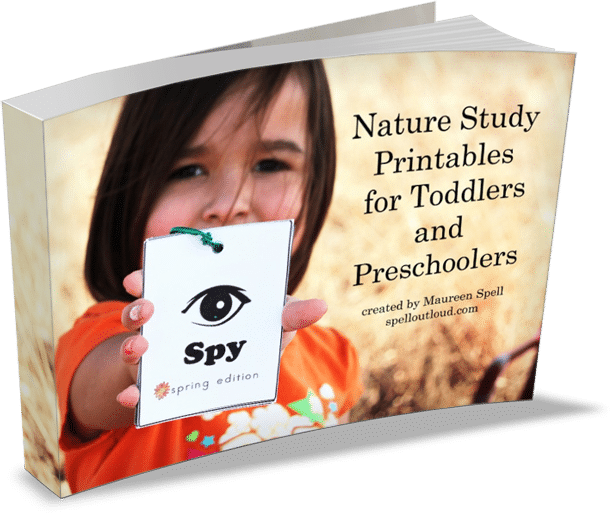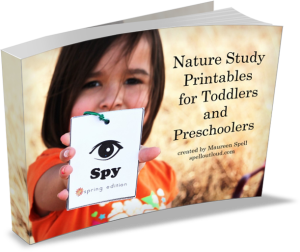 I was also looking for something that our youngest learner could use alongside of us.  Spell Outloud sent a review copy of Nature Study Printables for Toddlers and Preschoolers.  Oh what a treasure it is!  I love the encouraging essays for the mama.  They go a long way toward demystifying nature study.  I think many mamas like the idea of nature study, but think it might be just too hard.  Maureen Spell shows us that nature study can be as simple as exploring in our own backyards, and then puts fun tools in our hands to make our science adventures successful!
We loved taking nature walks with the Eye Spy Cards.  Although I had planned on them being for the 2 year old, my older children loved keeping a tally of all that we observed.  We can't wait to make a mini science book out of a paper bag!  This excellent resource is well-worth the price.  It's a book that works for a wide range of ages, and one we'll be returning to again and again.  You won't be disappointed!